1. BL touch works abnormally
1) Check out the wiring connection according to the instruction manual.
2) Check out whether the firmware is modified correctly.
2. Klipper firmware user guide
The crystal oscillators vary from chips types when using Klipper firmware. A wrong crystal oscillator setting will cause the Klipper to not work properly. The crystal oscillator of the STM32F446 chip is 12MHZ and 8MHZ for the STM32F429 chip.
3. Heat bed power requirements
Less than 300W is recommended. Please use an external heating bed module when using a high-power heating bed.
4. Abnormal display when connected to mini12864 screen
1) Remove the r1 resistance of the mini12864 screen
2) Check the firmware
5. Can a PT100 or PT1000 sensor be installed?
There is no PT100 chip onboard by default. Customers should purchase an INA826AIDR chip (SOP-8 package) separately if in need and solder it to the position as shown below.
6. When octopus pro switches on the power, this part suddenly stricks through and emits smoke. It can be used normally without a CAN interface before.
This is the transceiver chip of the CAN bus communication. The burning reason is that the high voltage connects to the 5V wire, or some conductors (like Metal objects or cables) introduce the high voltage into the 5V current, leading to this chip burning.
If you don't use this CAN interface, you can remove this ruined transceiver chip, and measure if the 5V and 3V current are short-circuited. If not, you can use it normally.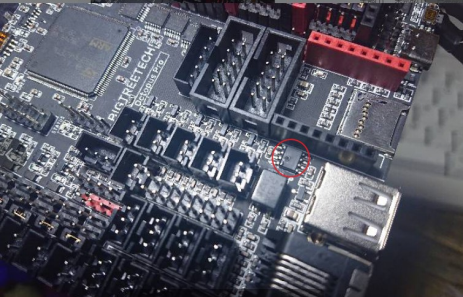 Purchase Link:
Navigation: